I´m really proud to present here some of the "Magic Noblesse" kids.
Till now we had just a few litters, but we already produced some succesful dogs in the show rings!
***
SHOW STARS
***
ICH. AMAZING WONDER of Magic Noblesse
"Meggy"
* INTERCHAMPION *
CHAMPION SK
CHAMPION HU
CHAMPION SRB
JUNIOR CHAMPION SK
JUNIOR CHAMPION SRB
4xCACIB
WINNER OF COLOR under Mr.David Mogger /UK - kennel Gayhalo/
This wonder girl and her owner Mrs.Janka Stieranková makes me happy from the very early begin. :)
Handled by: me
---
CH. DIVA LA BAMBOLA Magic Noblesse
"Bambi"
BEST IN SHOW
JUNIOR BEST IN SHOW
3x BEST IN GROUP I.
2x BEST IN GROUP III.
GRAND CHAMPION MK
GRAND CHAMPION BG
CHAMPION SRB
CHAMPION BG
CHAMPION MK
5x CACIB, 10xBOB
Bambi and her owner Ava Tzvetkova from Bulgaria are my "Balkan stars", lol :)
Handled by: Hristina Kostadinova
---
DON CORLEONE Magic Noblesse
"Mambo"
Mambo wan showed on a German Club Show under Mr.Frank Kane /UK/
at his age of 5 months with the result:
BOB BABY
Thanks to my dear friend from The Netherlands Cindy Markerink
for such a good care of our beautiful Rigo´s grandson Mambo :)
---
BACARDI DU MONACO Magic Noblesse
"Theo"
2x PUPPY WINNER in Norway
Theo was a model for a worldwide known company " Agria"
Thanks to family Halvorsen from Norway for all their care & love :)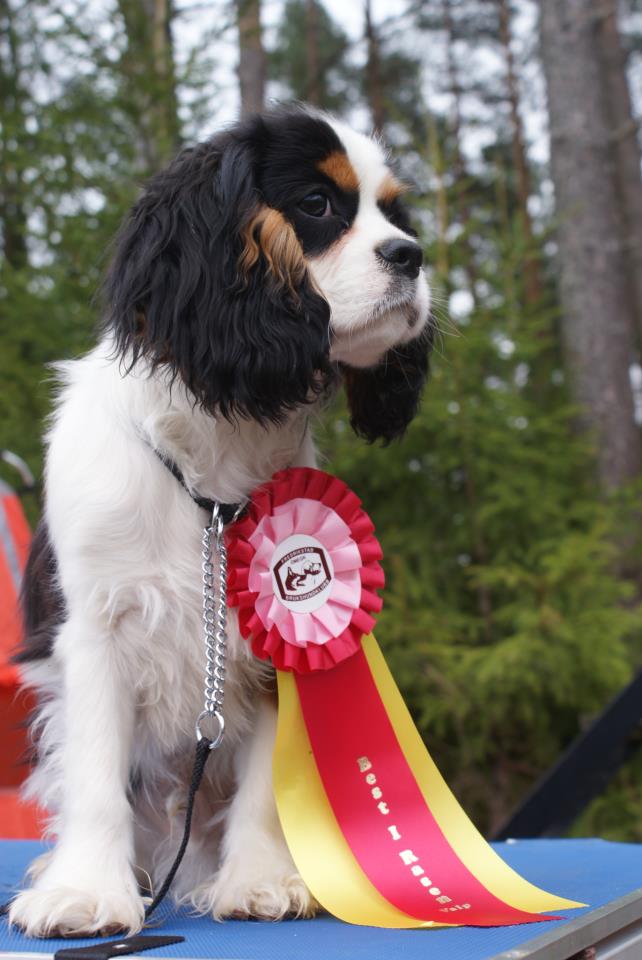 ---
EDITH PIAF Magic Noblesse
"Sissi"
BIS BABY
/from 12 in competition/
At our Slovak Cavalier Speciality show under Mrs. Anita Godwin /UK/
CACIB KIELCE November´16
Edith Piaf Magic Noblesse - Ex.1/8 CAC, CACIB, BOS!
Under breed specialist: Mrs.Tanja Engel /DE/
***
***
Thank you Martina for the opportunity for showing her in the ring :)
---
ESTÉE LAUDER Magic Noblesse
"Ester"
BOB BABY in Poland
Thanks to her young owner Dominika from Poland. This is her long awaited very first doggie :)
---
FATAMORGANA Magic Noblesse
"Fanny"
2x VERY PROMISING 1
Thanks to her owner Vladena Jaluvkova from Czech republic for such a good presentation :)
---
ENJOY THE PHOTOS OF OUR BELOVED "PUPPIES" FROM ALL AROUND THE WORLD
I´m definitely the happiest breeder in the world to see these smiling faces and happy dogs :)
Thank you all again!